If you wish to be part of this great commission, as the Lord leads, please pray, support and participate to reach the millions.
Gifts or donations for Living Waters, may be sent by the following modes
QR Code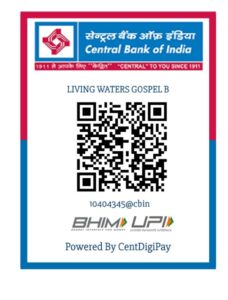 Online Payment through Razorpay
Payment via Bank transfers
INDIAN DONORS
Central Bank of India
Prabhadevi Branch, Mumbai-400 025
Account No. 1122164703
IFSC Code:CBIN0280628
FOREIGN DONORS
State Bank of India
FCRA Cell, 4th Floor, New Delhi – 110001
Account No. 40274664675
IFSC Code: SBIN0000691
SWIFT: SBININBB104
Please send us a mail to livingwatersmumbai@gmail.com OR SMS us on +91 77 100 65 115 regarding the transfer.
India
Living Waters Gospel Broadcasts
3rd floor, 'Nav Bhavana' Bldg,422, SVS Road
Prabhadevi, Mumbai-400 025, India
Email: livingwatersmumbai@gmail.com
United Kingdom
Echoes of Service
124 Wells Road, Bath,
England BA2 3AH UK
Email: echoes@echoes.org.uk
Cheques maybe drawn in favour of: "Living Waters Gospel Broadcasts", Mumbai